Leo Messi Patryk Tabak @12.02.2018 | Przeczytano 1446 razy
Argentyńczyk znajduje się aktualnie na 5. miejscu.
W miniony weekend Barcelona zaledwie zremisowała u siebie z Getafe 0:0. Bramkarza rywali nie potrafił pokonać Leo Messi, w związku z czym nie podrasował on swoich statystyk w wyścigu po tytuł najlepszego strzelca lig europejskich. Zrobili to natomiast zarówno Harry Kane (gol z Arsenalem), jak i Mohammed Salah (gol z Southampton), którzy uciekli Argentyńczykowi.
Ranking najskuteczniejszych otwiera właśnie Anglik z Tottenhamu. Kane w tym sezonie zdobył dla Kogutów już 23 bramki, co daje mu 46 punktów (liga angielska, podobnie zresztą jak inne z czołówki rankingu UEFA, ma przelicznik 2). Tuż za nim jest Egipcjanin - Salahowi do Harry'ego brakuje jednego trafienia.
Przed Messim znajdują się jeszcze dwaj snajperzy. Obaj w tym sezonie trafili do siatki 21 razy. Mowa tu o Sergio Aguero oraz Edinsonie Cavanim. Liga francuska wyprzedziła w rankingu UEFA ligę portugalską, w związku z czym przelicznik wynosi już 2, a nie, jak w poprzednim sezonie, 1.5. Właśnie dlatego Urugwajczyk może do samego końca liczyć się w walce o Złotego Buta.
Messi ma na koncie aktualnie 20 trafień, podobnie jak Ciro Immobile. Daje mu to, jak łatwo obliczyć, 40 punktów. Tuż za nim (19 goli) znajdują się Neymar oraz Robert Lewandowski. Najwięcej trafień, bo aż 25, ale ledwie 37,5 punktu ma Jonas z Benfiki. Ma to oczywiście związek z tym, że w jego przypadku gol liczony jest nie jako 2 punkty, ale jako 1.5. Czołową dziesiątkę zajmuje napastnik Interu - Mauro Icardi. Włoch zdobył 18 bramek, co daje 36 oczek.
---
ZOBACZ TAKŻE: Mecz z Atletico finałem ligi
---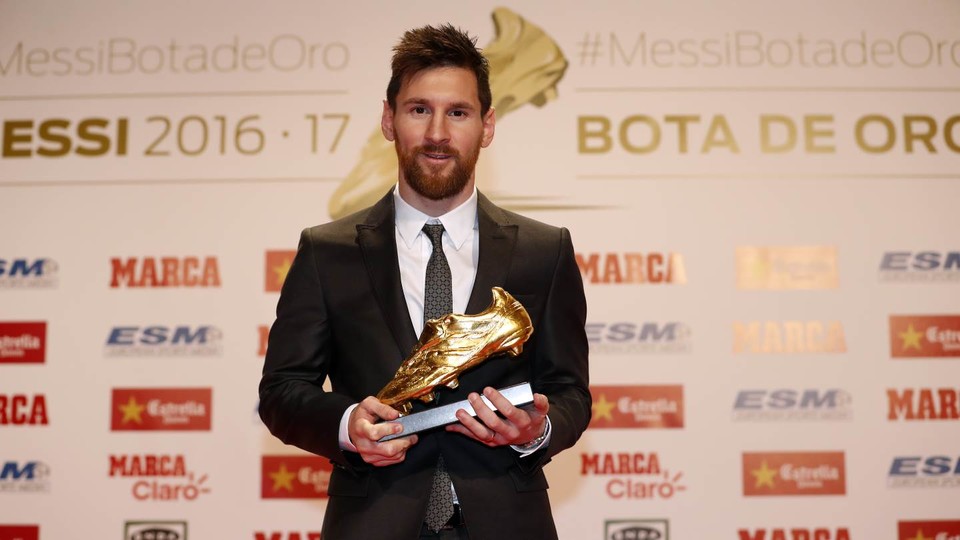 Źródło: Mundo Deportivo
Tagi: Barca, fc barcelona, FCB, Harry, Hiszpania, Kane, La liga, Leo, Messi, Statystyki, Złoty But
Dziś, 22:55
1
Relacje
Z powrotem na fotelu lidera!
Dziś, 19:22
0
Składy
Przewidywane składy FC Barcelona - Sevilla
Wczoraj, 22:01
1
Konferencje prasowe
Valverde: Sevilla nie jest przypadkowym liderem
Wczoraj, 21:45
1
Kadra FCB
Malcom poza kadrą na mecz z Sevillą
Wczoraj, 18:08
0
Spekulacje
Kilka dużych klubów monitoruje sytuację Malcoma
Wczoraj, 17:43
0
Wywiady
Jesus Navas: To nie będzie łatwy mecz
Wczoraj, 16:58
1
Leo Messi
Sevilla ulubioną ofiarą Leo Messiego
Wczoraj, 14:12
1
Byli zawodnicy
Jordi Cardoner: Nie planujemy powrotu Neymara
Wczoraj, 14:07
0
Wywiady
Xavi: Arthur może stworzyć historię w Barcelonie
Wczoraj, 13:55
1
Transfery
Barcelona zainteresowana napastnikiem Liverpoolu
FC Barcelona -...
Wypowiedź...
SOM EL BARCA
Atletico...
Real Sociedad...
Barca 1-2...
Więcej