Publicystyka SuperPatsonFCB @27.06.2017 | Przeczytano 2512 razy
Za kilka dni oficjalnie otwiera się letnie okienko transferowe. Plotek związanych z transferami do Barcelony nie brakuje jednak od około miesiąca.
Plotki transferowe. Na potrzeby tego artykułu, jak i całego okresu od zakończenia jednego sezonu, do rozpoczęcia następnego, trzeba sobie to wyrażenie wyjaśnić. Przyjmijmy więc, że plotka transferowa to wszystko to, co przed swoją treścią nie ma komunikatu "oficjalnie:". Tak po prostu będzie prościej. Piłkarze jadą na wakacje, trenerzy odpoczywają, a dziennikarze wciąż muszą pracować. I robić to w taki sposób, by sprzedaż danej gazety (ewentualnie oglądalność programu i słuchalność radia) drastycznie nie spadła. Dlatego, już na starcie, apeluję o spokój i niewyzywanie wszystkich dookoła, bo tak naprawdę nie wiemy jeszcze nic.
Każdy zdaje sobie sprawę z potrzeb transferowych Barcelony. Priorytetem jest środkowy pomocnik i prawy obrońca (wszyscy ci, którzy chcą Palencię uczynić zmiennikiem Vidala niech jeszcze raz się zastanowią, czy gość, który niedawno grał na trzecim poziomie rozgrywkowym udźwignie grę w jednym z najlepszych zespołów na świecie). Wszystko inne będzie przyjemnym dodatkiem. I, zaskoczę Was! Z tych potrzeb zdaje sobie również sprawę Josep Maria Bartomeu i Roberto Fernandez. Owszem, nie są oni rekinami biznesu, a zarabianie na sprzedaży zawodników nie jest ich najmocniejszą stroną, ale wiedzą, że to okienko to jedyna i ostatnia szansa na poprawę swojego wizerunku wśród kibiców.
Tym bardziej, że na początku czerwca w Katalonii chciano udzielić wotum nieufności Bartomeu. Po zebraniu odpowiedniej ilości podpisów istniałoby duże prawdopodobieństwo odwołania prezydenta. Oczywiście on o tym wie i chce sprawić, żeby kibice spoglądali na niego przychylniej. Dlatego właśnie musi przeprowadzić hitowy transfer w tym okienku. Taki, z którego zadowoleni będą kibice, ale też taki, który będzie udanym ruchem marketingowym. Dlatego też - jeśli do klubu dołączą Paulinho czy Lucas Lima, w co bardzo wątpię, na pewno nie będą oni jedynym wzmocnieniem drugiej linii Dumy Katalonii. Nie po drugim z rzędu odpadnięciu w ćwierćfinale Ligi Mistrzów i zdobyciu mistrzostwa przez odwiecznego rywala.
Verratti to, Verratti tamto. Jednego dnia La Gazetta donosi o tym, że Włoch spotkał się już z dyrektorami Barcy i uzgodnił warunki kontraktu, który podpisany zostanie w najbliższych dniach, drugiego ta sama gazeta rzekomo cytuje Verrattiego, który mówi, iż jeśli PSG się solidnie wzmocni, ten we Francji zostanie. Śmieszniej zrobiło się, gdy piłkarz poinformował, że żadnego takiego wywiadu nie udzielał. Jaki jest powód takiego działania? Zwrot akcji = wyraźny temat na okładce = większe zainteresowanie = większa sprzedaż. I tyle. Ile jest prawdy w doniesieniach - nie wiadomo. Być może faktycznie Verratti przejdzie, być może zostanie w PSG. I wtedy właśnie wyleje się fala hejtu ze strony kibiców Barcelony, że mi.. przepraszam, wicemistrz Francji trzyma swojego zawodnika na siłę.
Tak, wiem - z niewolnika nie ma pracownika i tak dalej. Tylko, że ten sam "niewolnik" podpisał długoletni kontrakt z PSG. Jeśli miał w planach odejście (a jeśli jest zawodnikiem ambitnym - powinien mieć), nie powinien składać pod nim podpisu. Związał się z nim umową, którą musi respektować. To Paryżanie mają decydujący głos. Jeśli Włoch by odszedł, Szejk stanąłby przed trudnym zadaniem uzupełnienia środka z pola zawodnikiem klasy światowej. A inne kluby, zdając sobie sprawę z desperacji PSG niekoniecznie chciałyby puszczać swoich zawodników nawet za bardzo wysokie kwoty. I tak dalej, i tak dalej. Jedno zdarzenie uruchamia następne i właśnie to władze klubu z Parc des Princes mają na uwadze. A w to, że Verratti 4 lipca nie zjawi się na treningu - nie wierzę. To profesjonalista i wie, co mu za to grozi. Za rok mundial w Rosji - szejk nie musi go sprzedawać, a stać go na przetrzymanie pomocnika na ławce. Pytanie jaki miałby w tym cel.
Dość jednak o Włochu - poświęciłem mu tyle miejsca, bo o nim w mediach pisze się najwięcej. Nie zapominajmy jednak, że to wszystko plotki. Przeczytałem już bardzo dużo narzekań na letnie transfery Barcelony... w tym roku! "Bo nie powinna się interesować kimś takim jak Paulinho", "bo Lima to jest słaby zawodnik"... Na razie wiadomo tylko to, że Barca się z byłym piłkarzem Tottenhamu skontaktowała. Nie każdy kontakt oznacza transfer. Czasem warto wybadać sytuację. A mało kto zauważył, że takim ruchem o Dumie Katalonii stało się głośno w Chinach, które stają się bardzo atrakcyjnym marketingowo rynkiem. Kasa, misiu, kasa.
Przesłanie tego artykułu, zawarte już w tytule, jest proste. Keep calm, czyli zachowaj spokój, i be patient, czyli bądź cierpliwy. Zapewniam, że Bartomeu do spółki z Fernandezem i Valverde coś tam przygotowują, bo w świetle sytuacji opisanej wyżej, po prostu muszą. Musimy tylko trochę poczekać - otwarcie rynku dopiero za kilka dni. Statystycy opracowali, że z Dumą Katalonii łączonych było aż 144 nazwisk. A o znacznej większości z nich w biurach Camp Nou nie padło choćby słowo. Życzę więc Wam wszystkim, żebyśmy za dwa miesiące mogli cieszyć się ze świetnych transferów.
---
ZOBACZ TAKŻE: Sandro Ramirez celem Realu Madryt?
---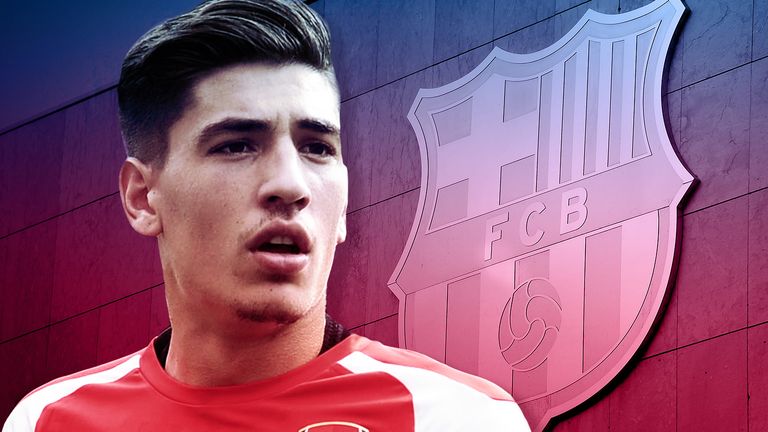 Źródło: Barca.pl
Tagi: Barca, barcapl, fc barcelona, FCB, Felietony, publicystyka, Transfery
Wczoraj, 18:59
2
Kontuzje
Pique z urazem?
Wczoraj, 18:47
1
Ciekawostki
Kolejny rekord duetu Messi-Iniesta!
Wczoraj, 18:44
1
Liga Mistrzów
Liga Mistrzów: Niewiadome na koniec
Wczoraj, 18:35
0
La Liga
Jesús Gil Manzano sędzią meczu z Atletico Madryt
Wczoraj, 18:13
1
Doniesienia
Starcie z Gironą szansą dla Yerry'ego Miny
Wczoraj, 18:04
0
Ciekawostki
Imponujący rekord Busquetsa na Stamford Bridge
Wczoraj, 18:02
3
Wywiady
Azpilicueta: Byliśmy lepsi
Wczoraj, 17:51
0
Wywiady
Iniesta: Na Camp Nou zobaczycie inny mecz
Wczoraj, 17:48
0
Transfery
SPORT: Arthur przejdzie dzisiaj testy medyczne
Wczoraj, 09:55
1
Ciekawostki
Messi z pierwszą bramką przeciwko Chelsea
FC Barcelona -...
Wypowiedź...
SOM EL BARCA
Atletico...
Real Sociedad...
Barca 1-2...
Więcej
Reklama