Transfery SuperPatsonFCB @04.05.2017 | Przeczytano 1503 razy
Przyszłość zawodnika leży w rękach Klubu, który wstępnie zaplanował jego odejście.
Kwestia Ardy Turana będzie szeroko komentowana i dyskutowana w Katalonii podczas najbliższego okienka transferowego. Barcelona w planach miała sprzedaż zawodnika, gdyż mając na uwadze długi okres obowiązywania kontraktu Turka, mogłaby na nim sporo zarobić (tym bardziej, że interesują się nim Chińczycy), do niedawna także sam piłkarz był skłonny do odejścia. Do niedawna, bowiem teraz Arda chce zostać w Katalonii.
Były piłkarz Atletico narzekał na praktycznie brak szansy gry. Powód był jasny - ofensywne tridente z przodu, z którego trener nie mógł wręcz zrezygnować. Ten sezon był jednak przełomem. Arda wykorzystywał każdą okazję, gdy mógł zagrać za Neymara na lewym skrzydle. Do tego stopnia, że dzisiaj jest czwartym najlepszym strzelcem w zespole w tym sezonie. Turan zrozumiał swoje położenie, docenił atmosferę panującą w klubie i pozycję bardzo dobrego rezerwowego i chce zostać na Camp Nou.
Nieco krzyżuje to plany Barcelony, która liczyła na sprzedaż Turka ze sporym zyskiem. Budżet transferowy na lato wynosi zaledwie 25 milionów, a środki z transferu Ardy miały zasilić właśnie tę sekcję finansów. Wszystko wskazuje na to, że by solidnie wzmocnić zespół latem, Barca będzie musiała przesunąć pieniądze z innych elementów działalności klubu.
Zainteresowanie Ardą, jeszcze w zimie (wtedy to Luis Enrique w ostatniej chwili zablokował transfer swojego piłkarza do Chin), wykazywały takie kluby jak Inter, Milan czy Arsenal. Ten ostatni był skłonny zaoferować Barcelonie nawet 40 milionów euro. Wiele wskazuje jednak na to, że Turan zostanie w stolicy Katalonii na kolejny sezon.
---
ZOBACZ TAKŻE: Iniesta gotowy na Villarreal
---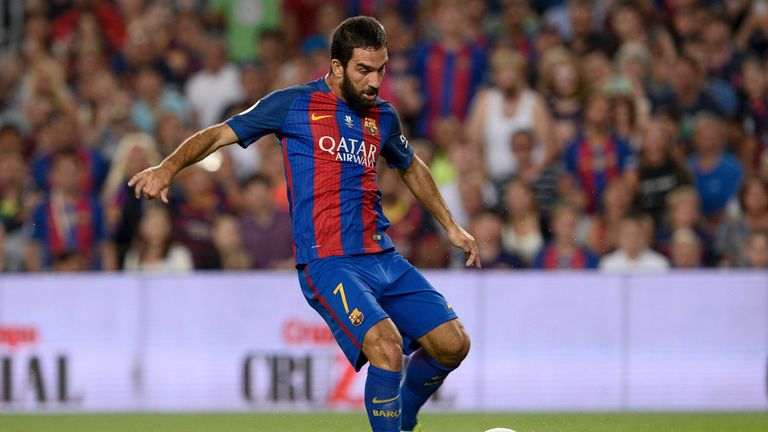 Źródło: Sport
Tagi: Arda, Barca, doniesienia, fc barcelona, FCB, Spekulacje, Transfery, Turan
Wczoraj, 17:53
1
Transfery
Oficjalnie: Mascherano rozstaje się z Barceloną
Wczoraj, 17:53
1
Wywiady
Rafinha pozytywnie patrzy w przyszłość
Wczoraj, 08:59
2
Transfery
OFICJALNIE: Rafinha odszedł z Barcelony!
Sty 22, 19:57
3
Kontuzje
Dwa tygodnie przerwy dla Vermaelena
Sty 22, 09:15
0
Pod Lupą
Pod Lupą: Real Betis - FC Barcelona
Sty 22, 08:49
5
La Liga
Wybieramy najlepszego piłkarza w meczu z Betisem!
Sty 22, 00:12
2
Wywiady
Suarez: Kibice oglądali najlepszego piłkarza na świecie
Sty 21, 23:49
1
Konferencje prasowe
Valverde: Messi był niesamowity
Sty 21, 23:28
4
Wywiady
Rakitić: Wypunktowaliśmy rywali
Sty 21, 23:13
4
Kontuzje
Vermaelen z kontuzją!
FC Barcelona -...
Wypowiedź...
SOM EL BARCA
Atletico...
Real Sociedad...
Barca 1-2...
Więcej
Reklama