Wywiady aniajes @27.03.2017 | Przeczytano 15886 razy
Eusebio Sacristán w wywiadzie z Cadena Ser przyznał, że nie słyszał o zainteresowaniu ze strony Barçy.
Były trener Barçy B, a obecny Realu Sociedad stwierdził jednak, że to dla niego duży zaszczyt.
Jestem zaszczycony, że biorą mnie pod uwagę. Ale mimo wszystko ta wiadomość nie będzie zaburzać mojego dnia. To wszystko, co może się wydarzyć, zawdzięczam Realowi Sociedad.
Eusebio jest więc kolejnym kandydatem na zastąpienie Luisa Enrique. Jego największymi rywalami będą Ernesto Valverde, Juan Carlos Unzué i Ronald Koeman, o których najczęściej mówi się w kontekście nowego trenera Barcelony.

---
ZOBACZ TAKŻE: Manchester chce zapłacić 200 milionów euro za Neymara
---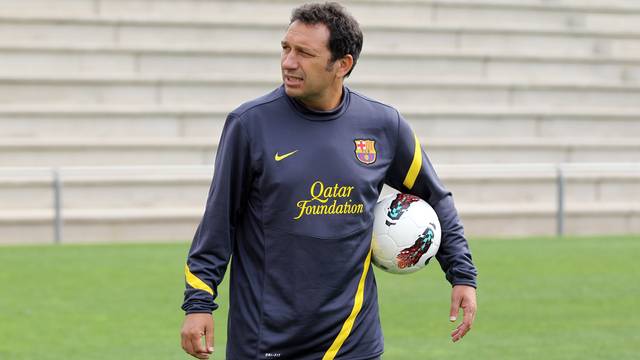 Źródło: sport.es
Kwi 1, 12:18

3
Rekordy
Messi w pogoni za Pelé

Mar 3, 17:53

2
Wywiady
Alba: Zagraliśmy lepiej niż w środę

Mar 3, 16:40

4
Doniesienia
Odmienna gra Barcelony z Arthurem w składzie

Mar 2, 22:47

5
El Clasico
Profesura na Bernabéu. Trzecia wygrana z Realem w tym sezonie!

Mar 1, 22:46

3
Kadra FCB
Kadra na jutrzejsze El Clasico

Mar 1, 22:32

2
Konferencje prasowe
Valverde: To, że wygrałeś pierwsze spotkanie, nie znaczy, że wygrasz drugie

Mar 1, 17:49

3
Mecze
Co czeka Barcelonę w marcu?

Lut 28, 20:07

3
Copa del Rey
Barca szósty raz z rzędu w finale Copa del Rey

Lut 28, 19:47

2
Kadra FCB
Philippe Coutinho może stracić miejsce w kadrze

Lut 28, 19:30

3
Copa del Rey
Zmiany w rozgrywkach Pucharu Króla
FC Barcelona -...
Wypowiedź...
SOM EL BARCA
Atletico...
Real Sociedad...
Barca 1-2...
Więcej