Zapowiedzi Patryk Tabak @21.10.2017 | Przeczytano 2512 razy
Zapraszamy na zapowiedź spotkania 9. kolejki La Liga!
Niby każdy wie, że Barcelona jest lepsza od Malagi, ale prawda jest taka, że w ostatnich sezonach Katalończycy zupełnie nie potrafili tego udowodnić. Mało tego - w poprzedniej kampanii zdobyli z Andaluzyjczykami tylko jeden punkt, nie zdobyli również ani jednej bramki. Wszyscy liczymy, że passa zostanie przełamana dzisiaj.
---
FC BARCELONA
---
Przed tygodniem zespół Ernesto Valverde po raz pierwszy stracił punkty w lidze. Na Wanda Metropolitano remis Katalończykom uratował Luis Suarez w końcówce spotkania. To nie był idealny mecz w wykonaniu Katalończyków, ale nie wolno zapominać, że to był dopiero pierwszy ciężki wyjazd zawodników Barcy w tym sezonie ligowym. I i tak wyglądał on nie najgorzej - w końcówce przy odrobinie szczęścia lider mógł przecież zdobyć drugą bramkę i w ostatecznym rozrachunku wygrać. Przez środowisko kibiców remis ten został odebrany jako strata punktów, a nie zyskanie jednego, rozgorzała także dyskusja na temat stylu gry (który, zdaniem wielu, mocno odbiega od tego, do czego Barca przyzwyczaiła w poprzednich latach), wieszczone były pesymistyczne wizje przyszłości.
Nieco na przekór temu wszystkiemu miał wyjść mecz z Olympiakosem, który, owszem, Barcelona wygrała, jednak kwintesencję swojej gry od początku sezonu pokazał Pique, który w bezmyślny sposób wyleciał z boiska. Być może Ernesto Valverde wreszcie posadzi Hiszpana na ławkę, aby ten trochę ochłonął - para Mascherano - Umtiti z pewnością gorzej by nie zagrała, a stoperowi z numerem "3" pozwoliłaby zaczerpnąć powietrza i przemyśleć kilka spraw.
Wracając do sytuacji - bez przesady. Liderem ligi wciąż są Katalończycy, mają aż pięć punktów przewagi nad Realem Madryt (cztery nad będącą na drugim miejscu Valencią), ponadto pewnie przewodzą grupie Ligi Mistrzów, i póki co nie ma powodów do spodziewania się najgorszego.
---
MALAGA
---
Na zdecydowanie odmiennym biegunie jest zespół z Andaluzji. Po odejściu kilku kluczowych zawodników poprzedniego sezonu, Malaga wyraźnie straciła swój blask i z zespołu pretendującego do eliminacji Ligi Europy (a już na pewno mającego pewne miejsce w środku stawki), najprawdopodobniej stanie się ekipą walczącą o utrzymanie do ostatniej kolejki.
Po ośmiu rozegranych spotkaniach, zespół z La Rosaleda zajmuje ostatnie miejsce w tabeli. Mało tego - zdobył on zaledwie jeden punkt (z Athletikiem Bilbao 23 września, gdy przegrywając 1:3 i grając w dziesiątkę zdołali dogonić Basków). Wydawało się, że ten właśnie remis tchnie w Malagę nowe życie i ta zacznie odbijać się od dna. Nic bardziej mylnego - o ile porażkę 0:2 z Sevillą na Ramón Sanchez Pizjuan można zrozumieć, o tyle porażka przed własną publicznością z Leganes w takim samym stosunku pozwala już stwierdzić, że nic w zespole z Andaluzji się nie zmieniło.
Malaga przyjedzie więc na Camp Nou wręcz skazana na ścięcie. Tak też jednak było w poprzednich sezonach (co prawda nigdy sytuacja Malagi nie była aż tak tragiczna, jak obecnie), a jednak potrafiła wywozić ze stolicy Katalonii punkty. Motywacji z pewnością Andaluzyjczykom nie braknie motywacji, jednak wydaje się, że Duma Katalonii jest teraz zbyt "nakręconą" drużyną, by samo to wystarczyło.
---
BEZPOŚREDNIE POJEDYNKI
---
Jak już wspomnieliśmy, Malaga potrafi grać w stolicy Katalonii. Nawet to jedyne w ostatnich trzech meczach zwycięstwo, po golu zdobytym przez Vermaelena, było wymęczone. Za kadencji Luisa Enrique szło pod tym względem fatalnie (dość powiedzieć, że to między innymi przez porażkę z Malagą na La Rosaleda w poprzednim sezonie mistrzostwo powędrowało do Madrytu). Miejmy nadzieję, że dzisiaj karta się odwróci.
---
TYPY REDAKTORÓW BARCA.PL
---
---
ZOBACZ TAKŻE: Valverde: Moje pierwsze 100 dni? Nie były nudne
---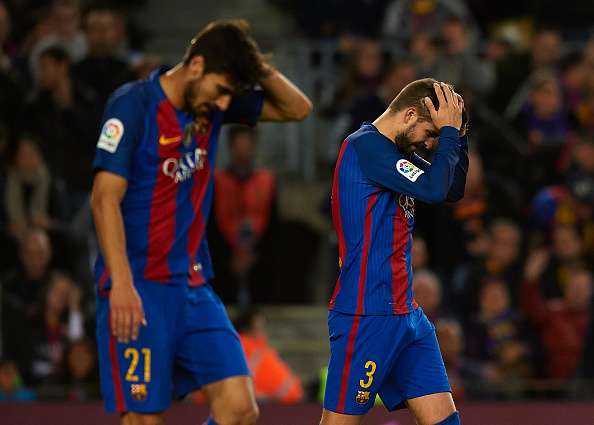 Źródło: Barca.pl
Tagi: Barca, fc barcelona, FCB, Hiszpania, La liga, Malaga, Zapowiedź
Wczoraj, 22:01
1
Konferencje prasowe
Valverde: Sevilla nie jest przypadkowym liderem
Wczoraj, 21:45
1
Kadra FCB
Malcom poza kadrą na mecz z Sevillą
Wczoraj, 18:08
0
Spekulacje
Kilka dużych klubów monitoruje sytuację Malcoma
Wczoraj, 17:43
0
Wywiady
Jesus Navas: To nie będzie łatwy mecz
Wczoraj, 16:58
1
Leo Messi
Sevilla ulubioną ofiarą Leo Messiego
Wczoraj, 14:12
1
Byli zawodnicy
Jordi Cardoner: Nie planujemy powrotu Neymara
Wczoraj, 14:07
0
Wywiady
Xavi: Arthur może stworzyć historię w Barcelonie
Wczoraj, 13:55
1
Transfery
Barcelona zainteresowana napastnikiem Liverpoolu
Wczoraj, 13:30
0
Copa del Rey
Cultural y Deportiva Leónesa rywalem Barcy w 1/16 Pucharu Króla
Wczoraj, 11:36
1
Wywiady
Quique Setién: Zainteresowanie Barcy bardzo mi schlebia
FC Barcelona -...
Wypowiedź...
SOM EL BARCA
Atletico...
Real Sociedad...
Barca 1-2...
Więcej